It's not too much of an exaggeration to say the internet exploded when The Force Awakens first came out.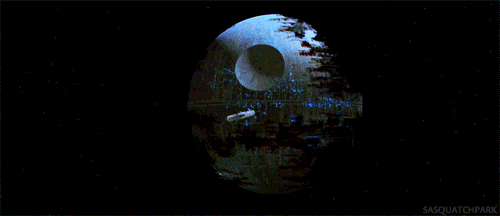 pictured: the internet
But what is still baffling to me was how dozens of the film's reviewers showed how the skill of being able to watch a movie is now a dying art.
What I mean is the simple act of sitting down and experiencing a film as they could 20-30-40 years ago when they were kids, just letting the story take them so they can have an actual experience. Which an alarmingly high amount of people opted not to do. And I'm not talking about fringe rant blogs, I'm talking about prominent, respectable, long-running publications.
As a result, after seeing The Force Awakens for the first time, I combed the web for in-depth reviews, analyses, discussions on character arcs and mythological parallels.
Instead, I kept running into reviews leaping at the film and tearing it into shreds.
You know the kind, built on guiding principles like "Ha! I found 40 mistakes so this is sh*t!" or "Ha! Space doesn't work that way so this is sh*t!" or "Ha! This part is inconsistent with Attack of the Clones so this is sh*t!" Yes, there are films out there that are so confusing and illogical that you don't even have a slight chance of being able sit through it as an experience, so you wait for Honest Trailers and Cinemasins to have a go at it so you can get at least some of the fun back.
But despite what you think about The Force Awakens, when you look at it as personal experience, the main problem with the current trend of superficial dissection is the sort of knee-jerk approach that shuts down all chances of real immersion in the story.
especially when compared to films like
Snow White And The Huntsman 2: This One Has No Snow White,
which have only heard rumours of words like 'story' or 'immersion'
Put simply, by keeping the focus on the surface, you miss out on the depths.
Or you might, like me, belong to the kind of person that actually likes to treat films as cultural experiences.
The bottom line is this: making films is hard. Making huge films on ever tightening deadlines is hard. And making any project with 200 people is hard. There are always going to be flaws, and it's easy to point fingers. But why not look past the superficialities? Why not give people some leeway, look past the flaws and arrive somewhere deeper – what this film is about and the many things that it says.
With that in mind, the purpose of this post is to help refocus.
Although if you have felt it, please reopen your eyes
so you can read the rest of this post
Below I give you 7 practical points of reference and 7 challenges so you can immerse yourself deeper in The Force Awakens. The film has been out for quite a while now, so picking one or two of the pointers below and rewatching using that pointer in mind might jazz up your next viewing, especially if a number of months have passed since you last saw it, or if you want to find something to do until Rogue One comes out. And let's be honest, The Force Awakens is not a film to watch just once – that's the christmas special (badumm tshh).
Before we jump into it, a fair warning: the following piece of writing is huge. Last I checked, it was more than 4100 words long. So if you want to take it with you to read later, you can click here and download the entire guide as a PDF.
That said, these are my 7 pointers for your next The Force Awakens rewatch:
And after you read them, as a bonus challenge you can go and apply these to Rogue One when it comes out. That way, there's an added thing to look for: it'll speak volumes about what just applies to Episode VII, and what we can consider a new franchise-level tendency in the rebooted Star Wars universe.
Ready? Let's go.
#1. Masks are the new sunglasses
A good seventeen years ago, The Matrix chose its path to become The Great Film of Sunglasses – basically, you could watch out for how character portrayal changed based on whether they had their sunglasses on or off. Generally, when someone would have their sunglasses on, they would play their role or archetype, or hide their emotions. When they took them off, their communication was more honest, more human, more real.
Fun fact: Carrie-Anne Moss used to hide from fans by not wearing sunglasses in public.
Star Wars VII plays the same I have it on / I have it off game, but in a more subtle way, with character expressions depending on whether they have something covering their face or not.
By the way, this is also one of the things that actually expands the mythological vocabulary of the original trilogy, and feeds back on what the original trilogy's seventies drew up its world and how The Force Awakens draws up its own.
In the original trilogy, masks were fixed. Stormtroopers never took their helmets off, and that goes double for the character who is meant to be so mysterious that he has less lines in the trilogy than an average Schwarzenegger character. In fact, of the genuine pieces of audience discussion after the original Star Wars came out was about what is even under Darth Vader's helmet, and can it be taken off — that's one reason why you get a peek in the "meditation egg" scene in Empire.
Back when it was just one movie, Star Wars didn't originally start out as a redemption story of the father archetype, but it shifted to this story as it became a trilogy. So by the time Jedi came around, its story fed this development back into the mythology of masks as Vader redeems his humanity and asks his son to take the "mask" off (note how the dialogue is very specific about using that exact word). I don't know many films to come out of Hollywood, especially recently, who are able to humanize their villain as well as Return of the Jedi does.
Taking notes yet, Marvel Cinematic Universe?
After the prequel trilogy choosing not going very deep in archetypal mythology (to put it mildly), one of my big hopes was there would be at least one person of influence on the Star Wars VII set who was actually familiar with the books of Joseph Campbell, the mythologist with a pretty substantial influence on the Star Wars franchise who film people like to claim they know much more about than they actually do (most have only read the 7-page memo summing up Campbell's Hero's Journey as interpreted by writer Chris Vogler, which today is mainly used by executives to boast how they know enough about storytelling to underpay screenwriters – but that's a story for another time).
Incidentally, Campbell brought up the phrase "the masks of God" quite often to differentiate between the form of a being and the true identity that hides behind that form. To my positive surprise, The Force Awakens actually took the mask symbolism of the original trilogy and combined it with the Matrixian do-I-have-it-on-do-I-not-have-it-on game, to return to this exact Campbellian theme as a point of exploration. (The film even does a Matrix sunglasses moment when Maz takes her glasses off for her talk with Rey after her visions.)
Mask & Furious 7: Jedi Drift (early working title)
Now there have been people saying that it's a simple question of mask on = dark side, but that idea falls apart with Rey's first appearance. The symbology of masks in Star Wars is more concerned with one's humanity being covered up by a role. The question in this film is: do you identify with the mask, or do you identify with what's under the mask (that is, yourself)?
This line of thinking also comes from the original trilogy, by the way. Just watch the corridor ambush scenes in the very beginning of Star Wars: the difference between who we associate with as an audience, who we root for and who we percieve as "other". If the stromtroopers were just another bunch of dudes with adorable 70's dad moustaches like the rebels are, the effect would be way less clear.
Quick: Which of these characters can you empathize with more?
So now in Star Wars VII we have:
people who have little trouble taking off the mask of the role they perform in society
people who are very comfortable with never taking their masks off
and people actively struggling with whether to wear the mask they were assigned
I would even argue that the whole film hammers its point about masks is because of how that plays into the act three plot twist. Many people criticized the Han Solo-Kenobi parallel, but that misses the point. What is important is not that the pattern was used, but how the pattern was changed to signify character development. Kylo Ren – who struggles with whether to do what his parents tell him to do, or whether to go full religious terrorist – becomes the most dangerous when he does make his decision. Mask off, he then fully steps into the identity of a dark lord.
still so much feels tho
So while in the beginning of the film, three of the main characters who are shown to be un-set in their path start out on their journey wearing masks, by the end of the film, they all get rid of them as all three are solidified in what they want to get out of their adventure.
By the way, I'm quite convinced that the entirety of Kylo's story arc was written based on the question "what went wrong in telling the story of Anakin's in the prequel trilogy, and how do we fix it?" But as I want to briefly mention other pointers for the film beside mask mythology, the full analysis of this will have to be told another time. (I keep doing this, don't I.)
Your rewatch challenge: What triggers characters to take their mask off or put it on? What changes in the tone of a scene when they do so?

Kudos to you for getting this far. 6 more challenges to go.
Yes, it's big, I wanted it to be comprehensive.
So if you want, you can read the rest later by clicking here and downloading this entire post in a PDF:
Click here to get the full guide
#2. Nothing is just black or white anymore
What makes mythology relatable is when it consciously or unconsciously mirrors the society its based on. Even better mythology interprets that society's workings and uses it to teach. The original trilogy clearly plays with a simple good side / bad side structure fitting to the cold war era it was conceived in, and one of its core twists is the fact that sides can be crossed either way. As over the decades Lucas gradually loses faith in the ideals of his society and his own previous storytelling, this gets sort of a reversal in the prequel trilogy which is an exercise in the "fall of great civilization" narrative (sprinkled with a bit of Dune-like exploration of the question "so how happy are we with this whole prophecy-coming-true-thing?").
Either way, what gives this original twist its strength is that in Empire and Jedi, both Obi-Wan and Yoda are quite convinced that the journey from one side of the Force to the other is a one-way road, and yet Luke's conviction and faith proves that there is a way from dark to light, and heroes are made by choice and not predetermination. (Again, this gets a reversal in the prequel trilogy.)
As with mask mythology, The Force Awakens seems to go back to this idea of opposing sides and take it further in that now, nothing and no one is fixed. Like in the original trilogy, many of the character journeys are about not staying on a predetermined path and breaking out of their stereotype, but for some of the characters, it's an especially big leap from where they start out at.
Your rewatch challenge: Which original trilogy character's elements can you find in which new generation character? Who is a bit Luke-ish, Han-ish, Leia-ish, or Vader-ish, and to what extent? Notice how, contrary to the "Character X is old character Y" interpretations, how many characters share traits with one or more previous generation characters. And that's not an accident.
#3. Hello, silent cinema
It's not usual in a Star Wars film – or any Hollywood film nowadays for that matter – to spend an entire minute in a silent film. When no one speaks, and we're just looking at a character as they look somewhere, move somewhere, do something, or just exist, without dialogue or narration explaining in words what is going on. This is one of the things that makes a film a film, and oddly it's so rare to see something like this in blockbuster cinema (that said, this year, Arrival also did it's fair share). We get more silence in the early parts of The Force Awakens, and I so wish we had more.
It's not a coincidence by the way. When he was asked about his favourite scene in the entirety of Star Wars, J. J. Abrams said it's the one where Luke walks out and stares into the sunset, very much wanting to set off to a big adventure.
Your rewatch challenge: notice when you have a rare silent scene and think about why American film executives are so afraid of letting a film run for more than a few seconds without someone speaking.
#4. Diversity, reloaded
When I first heard about a new Star Wars film, my main concern wasn't whether the characters will succeed in blowing up the third runner-up to the Death Star lookalike competition. It was whether the film would double down on the diversity thinking that the original trilogy originally upheld.
From today's perspective, the original Star Wars might not look like very special from a representational standpoint. But in 1977, considering the mainstreem Hollywood sci-fi/adventure film landscape of the time, Leia definitely stands out, as she:
holds a high political office,
masterly conspires against an oppressive system,
having at least partly organized an entire covert freedom fighter operation,
fires a gun (and hits, surpassing the hit percentage of most stormtroopers),
remains level-headed while facing authority figures,
does not break under pressure,
thinks fast when plans need to be changed,
and single-handedly sets the plot in motion, a plot which she remains central to throughout most of the film.
Yes, she does literally stand still for most of Act 3 (they couldn't really find a role for her in the dogfight war film genre that the Death Star attack sequence is placed in) and for a good part of the film she literally is a princess to be rescued.
On the other hand, however, her traits of unapologetically standing up for herself and her constant sarcastic quips help her maintain what little agency she has even while captured – just think of her dialogue with Tarkin or one of the film's best-known lines, "Aren't you a little short for a stormtrooper?". Overall, Leia's character and active participation in the plot still place her way ahead of what was normal for the genre at the time. And Star Wars was quite a rarity in having so many types of characters work together as equals, even if that does not fill the diversity requirements of today – Lando Carlissian, a.k.a. the only black dude in the Galaxy notwithstanding.
But The Force Awakens does tick all the boxes. My bar for a Hollywood film in terms of diversity is quite low: not all main characters should be white and not all main characters should be men. Representing the realities of the actual living population is just one thing. The other thing is that I'm simply tired of stories of two or more white men who need to find a way to work together to defeat a common enemy through fighting, as I see this structure at least six to ten times a year, and those kinds of films are not just boring by now, they tend not to really say anything.
I was surprised however, at how much the creative team of The Force Awakens paid attention to the diversity angle. In this rundown by Britt Hayes over at Screencrush, he lists how Kennedy, Abrams & co either took to heart what Geena Davis put forward in 2013 as two easy steps to make Hollywood less sexist, aimed at improving the current statistic where only 31 percent of characters in speaking roles and only 17% in crowds are women.
Davis's first proposed solution for writers (and directors, and producers, and executives) is to go through the project they're working on and make a couple of characters women, because why not. Whatever kind of character it is, it will be more interesting as a woman, simply because characters written as female from the get-go are much more likely to be stereotyped in some way. Incidentally, this is how we got Ellen Ripley (kudos to Ridley Scott on that one), Kate Macer in Sicario, and it's also the only reason why the film Salt was marginally interesting. Of course, taking this decision often leads to fights with producers and executives about why those characters need to be turned back into men – an argument I've had many times during the ten years I worked as a screenwriter.
Either way, applying this method led to Captain Phasma being a woman and played by Gwendoline Christie. Is the character more interesting? To me, a lot. Although it'll be up to the next two movies to decide whether the character is going anywhere or not.
the armor's shiny because girls like shiny! – caption sponsored by the new Hammerite for Women
The second Geena Davis step is to add four simple words to the script when writing a scene with a crowd, like so: "A crowd gathers, which is half female". Which sounds silly, but this is something I also know from experience: if you don't spell something out in the script, people reading that script will go with their own assumptions, or go with the industry default practice. If you have it in the script, someone might still take it out or disregard it but at least you'll notice when it's gone and have a point of reference.
I've seen The Force Awakens already knowing about this proposal, so I was very pleasantly surprised how the staff took this to heart: every single scene in The Force Awakens with a crowd in it has men, women, white people, black people, Asian people… you know, like, in life? I think I counted more people of colour in this one film than in most other Hollywood films combined for the year. Those crowd scenes were very refreshing.
Your rewatch challenge: listen for female voices coming from under stormtrooper helmets (they used to have uniformly male voices), look for female pilots, female officers in the First Order, and people of colour generally.
#5. Playing with music
If you're tasked with writing music for a film, your assignment is all too many times along the lines of "We liked the music you made for that other film. Repeat that please." Thankfully, they allowed John Williams to actually compose new stuff for The Force Awakens. Even though there are scenes where there are just a wee bit too many shifts in musical tone to accommodate for what's going on, in general they did let Williams write original music while avoiding to push the repeat button on the classics. While the classic motifs are there, they appear faintly alongside new pieces of music composed for the new characters and situations, creating interesting mixes. It's well worth it to give a go to the stream of the soundtrack album on Spotify, it warrants a listen on its own.
What makes the music even more interesting, though, is the long standing tradition in Star Wars music for Williams to refer to earlier music in both subtle and not-so-subtle ways. The Force Awakens is no exception: in just the first ten minutes, you can catch a new motif inspired by Gustav Holst's Mars movement from his Planets cycle (which originally inspired the Imperial March theme). But there are other little nods in there, including a few chords from the first scene of Alien. If you've spotted any more musical shoutouts, let me know in the comments, I love this kind of trivia.
Your rewatch challenge: which are scenes where familiar tunes subtly come in?
#6. What's not there
A lot of people made note of the similarities between The Force Awakens and earlier Star Wars films. Jedi? Check. Rolling droid? Check. Duel? Check. Hologram? Check. Death Star? Check. Arms being cut off? Check. Malfunctioning hyperdrive? Check. Malfunctioning motivator? Check.
Your rewatch challenge: note what of the classical trilogy (or the prequel trilogy) do not return in this film. To me, what's missing is more important than what is there. Let me know what you find not to be there in the comments below. (And I don't mean the fact that this film does not contain blue milk.)
#7. Came back twisted
There are a lot of callbacks to the old Star Wars movies, and this pissed many people off, some of them outright calling The Force Awakens a copy-paste exercise. While that's a snappy and also very harsh judgement on something very meticulously worked on for many years, and sure, it can be looked at this way, but again, I invite you to scratch the surface and go deeper. A point many reviewers missed is the important balancing act this film had to play by re-establishing the rules of the Star Wars universe for this trilogy while also trying to reconcile all the people who were turned off by the prequel trilogy.
But that's just one thing. The other, much more interesting type of callback is what the film does a number of times when it starts building up something that is familiar from the old films (especially the original Star Wars), but then twists it to make a point about where this new story is going. The Han-Kylo confrontation scene is one of these important digressions — yes, it is like Darth Vader striking down Ben Kenobi, but what is different? I counted at least 2 more of these instances, but this post is already running long so I'll get to that another time.
Your rewatch challenge: when you notice yourself going "Oh, they already did that in episode X", pay attention. What is different from how they did it in a previous episode? And what does that change say about the story world this episode is building?
Bonus #8. Wilhelm, Gonk and my favourite little robot
Last but not least, there's a huge load of easter eggs and references in this film, miniscule winks that don't at all factor into the plot, but warm my heart as someone with a huge nostalgia for the films of old. The list is long but here are my three absolute favourites:
that great long-running sound designer inside joke, the Wilhelm-scream (hint: it's very discreetly edited into the first 20 minutes)
the GNK (or Gonk) robot which paces relentlessly in almost every film since 1977. I really hope that it reaches its destination one of these days.
my favourite, the small black whatever that I always forget the name of but which goes duu-duu duhduh. I'm guessing from the inclusion in The Force Awakens that the thing is not only my favourite.
For a full list of easter eggs, refer to the good people at ScreenRant.
Now it's your turn
Above I've given you a number of pointers to apply when rewatching The Force Awakens. But I'd like to hear yours.
Which pointers have you tested?
Which challenge have you tried out on the film?
What's an overarching point or recurring theme or thread that you noticed?
Let me know in the comments below.
If you liked this post, I have a whole slew of Star Wars analyses slated for in the upcoming weeks. Plus I'm preparing a number of exclusive bonuses only for people on my e-mail list. So sign up by clicking on the button below – it's free and I'll also send you this whole post in a PDF so you can take it back to the rebel base.